In February's article, I noted how strong demand combined with relatively slow growth in housing supply in RI have brought about high and rising home prices. But where has all the demand strength come from? The answer may surprise you.

Population growth is an important driver of the demand underlying housing and retail strength. But if RI population has declined over the last decade, as most of us have been led to believe, how can demand be strong. The truth is the decade of population stagnation and decline predicted in the 1990 census turned out not to be true. Ten years later the 2000 census showed actual real population growth throughout the decade. (see chart).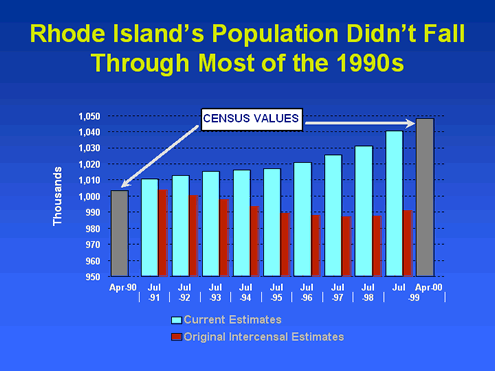 So, the housing and retail sales momentum that existed as we entered this decade is not really all that mysterious. Rhode Island's growing population has, along with other forces, sustained and enhanced momentum in housing and retail sales. This is good news, since it indicates that factors such as interest rates and income growth are not the only factors that have propelled these key sectors of our economy.