RI EMPLOYMENT DATA
TRICKY TO ANALYZE

The Providence Journal, Money & Business Section
January 2007

Judging by the economic statistics being publicized in the media, anyone who has attempted to find a job lately should have encountered improving job prospects. Employment has been rising while the unemployment rate has been falling. In fact, the national unemployment rate is currently at a level deemed to be close to or at full employment, while Rhode Island's current jobless rate is substantially lower than its value just a few months ago.

Focusing on Rhode Island, though, it is likely that a fairly large number of job seekers would disagree with the characterization of the labor market given by these statistics. Both layoffs and long-term unemployment here have been trending upward in recent months. Not only have the monthly numbers for payroll employment change continued to diminish, November's value was actually zero!

Fortunately, the monthly employment change, which is the "headline" number each month, does not indicate the number of jobs added for the most recent month. Instead, it reflects something entirely different: the divergence between job gains and job losses for that month. So, the good news is that Rhode Island is adding more jobs than is widely perceived. The bad news is that there is more job loss occurring than many are aware of. Perhaps more importantly, these one-month changes are seldom statistically significant, which results in their frequent revision, often making today's headlines prove to be incorrect.

Instead of focusing on one-month changes, it is preferable and more accurate to view employment change compared to the same month one year ago. This is called the year-over-year change. The direction of year-over-year change is seldom revised, although this sometimes occurs since the most recently released employment value is an extrapolation beyond the time period of known data. Focusing on year-over-year change, our state has fluctuated nationally between #47 and #49 for the last five months, with a rank of #48 for November. The graph (below) of year-over-year values for jobs added and job losses during this recovery paints a very troubling picture: the two lines are converging. Rhode Island's overall employment has continued to shrink as both the national and Rhode Island economies have slowed.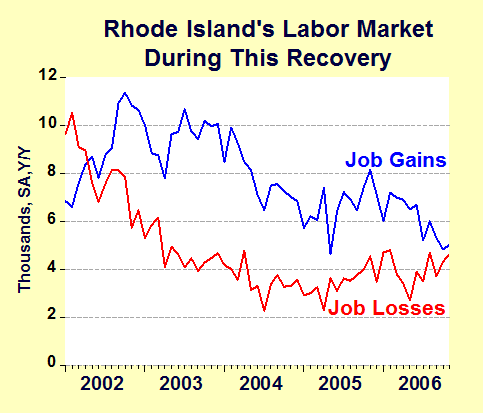 Perhaps things aren't as grim as this graph makes them appear. In order to delve more deeply into the possibility that this might be one of those infrequent periods where currently released employment data are understating employment, I performed an econometric analysis of Rhode Island's payroll employment data conditional on a set of non-survey-based variables. The results suggest the possibility that the currently released payroll employment value for November is understating the correct value which will be released with "rebenchmarking" next month. If this econometric analysis proves to be correct, actual payroll employment here could be as much as 2,000 higher than the levels that are now being reported. While this might not seem like a very large difference, for Rhode Island this could prove to be significant, especially as the pace of economic activity at both the national and state levels continues to slow.

So, employment data can be tricky to understand and analyze. Rhode Island may be in one of those infrequent time periods where currently reported employment data are understating actual values. We will have to wait until next month to see if this is correct.
by Leonard Lardaro