Guess what? Rhode Island is in a recovery, it is not a jobless recovery, and, statistically, at least, Rhode Island is blowing away the nation in terms of its rate of job growth. Yes, you read the last sentence correctly. Not only is Rhode Island's job growth more rapid than US growth overall, it has been more rapid for this entire recovery! Furthermore, while job growth in Rhode Island has been accelerating of late, since January of 2002, annual (year-over-year) job growth has actually been negative at the national level.

This can be seen clearly in Chart 1. I must confess that I never thought I would see anything like this occur. But it has. Perhaps the entire situation is more interesting, though, when you consider some basic facts about Rhode Island's economy.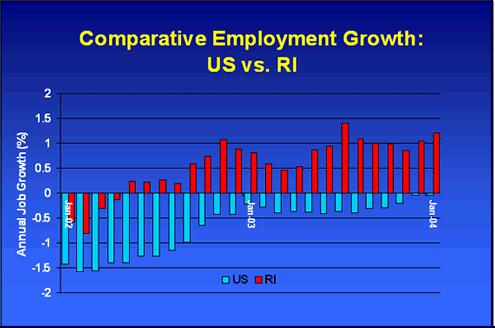 Rhode Island is a high-tax, high-cost state, hardly a role model in terms of business climate. In the 1990s, we failed to attain a critical mass in high technology. Ironically, this spared us from the depth of recessions experienced by the more "successful" states. What are our primary employment sectors? Health Services, and, depending on how you add apples and oranges, either Tourism or Non-Profits. In other words, we really don't have any engine capable of generating rapid job growth. So, absent the large losses from high-tech, and continuing to benefit from the winds of strong housing and retail sales, we have sustained our forward momentum. Believe it or not, Rhode Island's rate of job growth was #7 nationally for January of 2004 (the most recent month available).
Can we sustain this lofty performance relative to the nation? I don't think so. But my reasoning, which presupposes that this recovery will soon come to resemble a more "traditional" recovery, may well turn out to be flawed. When, or should I say if, the national economy makes the transition to a more typical recovery, we will once again return to our lagging status, since our presence in rapid growth industries is not very strong. The areas that have sustained us, however, have truly served us well!